Samsung The Freestyle Smart Portable Projector
915.00 $
Samsung The Freestyle Smart Portable Projector for Indoor and Outdoor Home Theater Big Screen Experience with Premium 360 Sound with Alexa Built-In 
Free Power Bank 32,000mAh + Projector Bag 
A small and compact projector that's powerfully packed and flexible by design. Simply point, and play.

Take Samsung The Freestyle everywhere you go and improvise a screen up to 100″, on any flat surface – from wall, to ceiling.

Gets the picture right, every time. Sharp image, straight screen, wherever you are. Just turn it on.

Powerful built-in speaker, for 360-degree audio on the move.

Experience Samsung Smart TV with no boundaries. Watch what you love, whenever you want, wherever you go.
Samsung The Freestyle Smart Portable Projector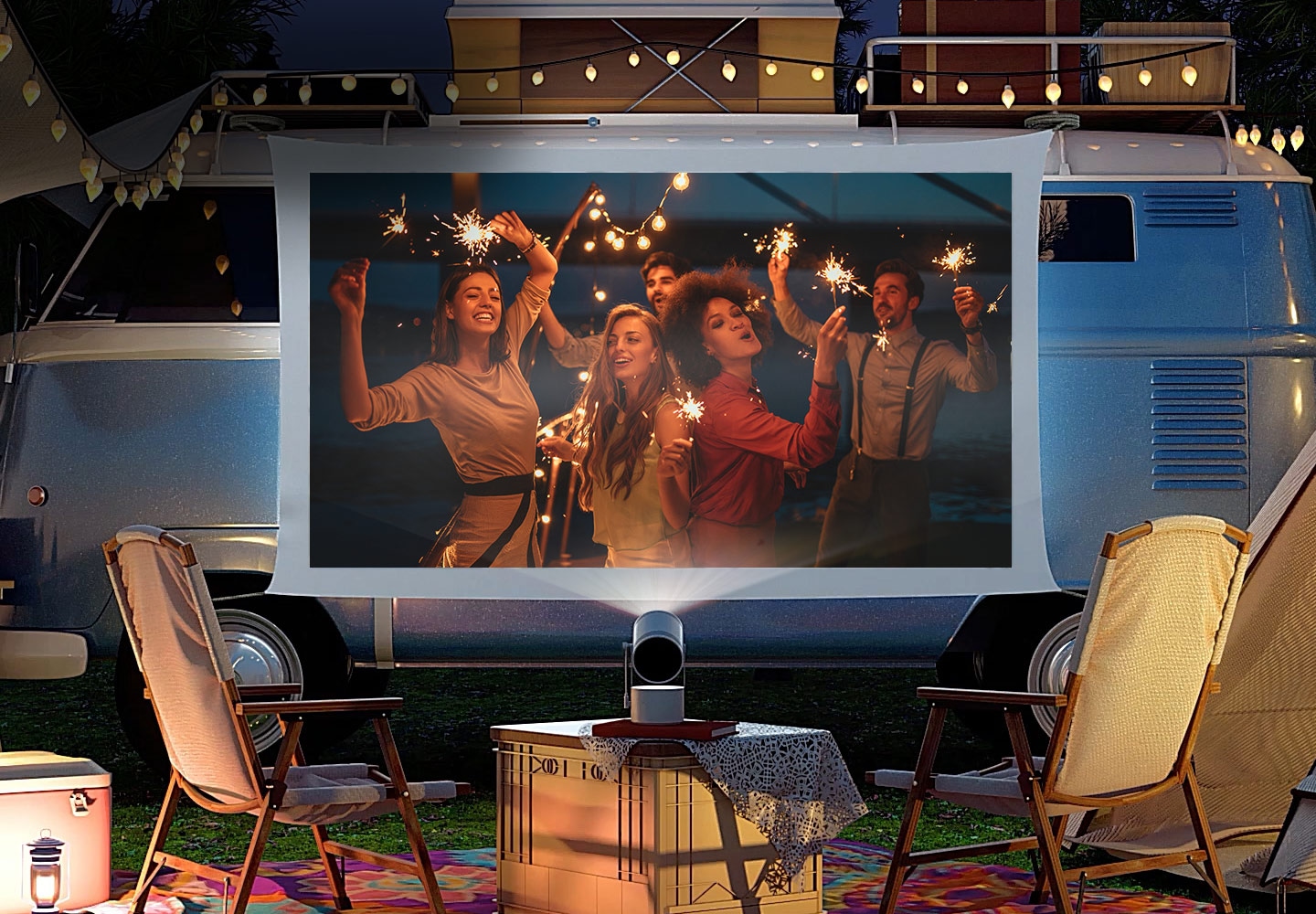 Point and Play: Place it, tilt it and watch it wherever—this versatile smart theater-to-go makes it simple; With a cradle stand that rotates almost 180 degrees, position your image where you want from floor to ceiling; The Freestyle gives you the flexibility to watch your way
Easy Setup: Sit back and let The Freestyle manage the setup; Once you find your angle, this portable smart project automatically adjusts the image for your perfect picture; Auto Leveling, Auto Focus and Auto Keystone technology do the work in seconds
Smart Entertainment: Stream your favorite shows, play games, workout with a trainer; Do all you enjoy with The Freestyle and discover your must-have apps and streaming services, all just a few clicks away
Premium 360 Sound: Hear the 360-degree audio that fills the room from this small but mighty smart theater; You'll find yourself carried away by the high quality sound that resonates from the speaker and bass enhancers
External Battery: Now the big screen experience is as mobile as you are; Just grab The Freestyle with an external battery pack and go; With no outlet needed, you're free to watch your favorite shows, play games or whatever you want, anywhere you want—indoors or outdoors
Screen Size: The projector optimizes screen size, auto-focuses, and levels the image even when pointed on an angle.